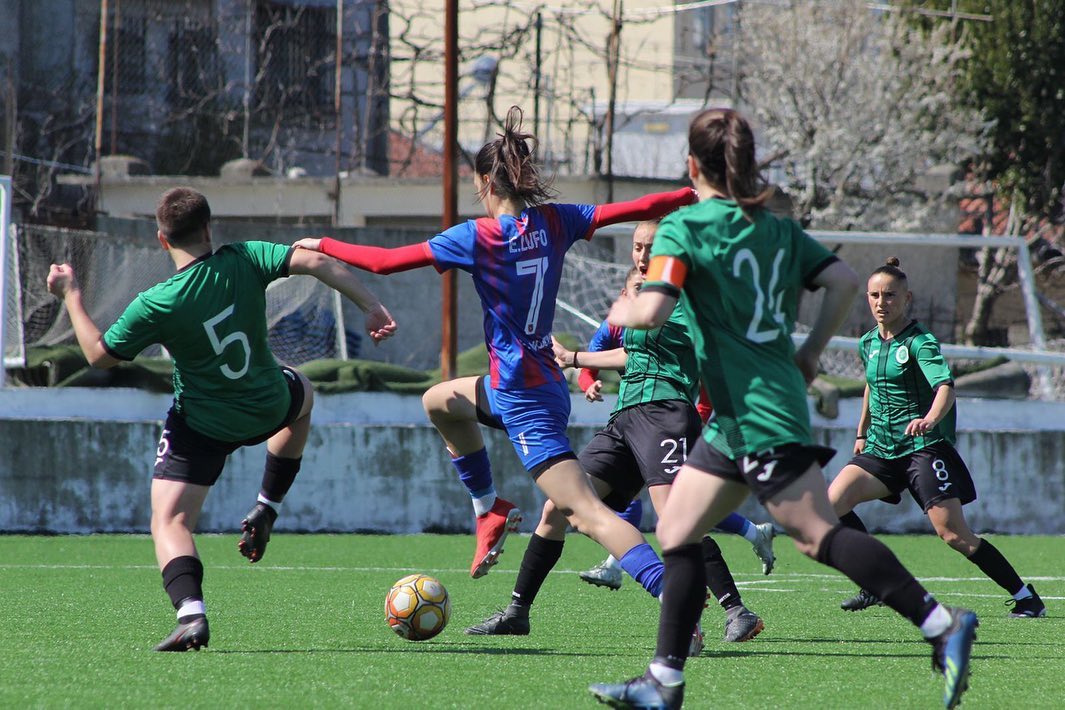 Esi Lufo has faced big names in big games. She went up against Chelsea, PSG, and Real Madrid last year in the UEFA Champions League with KF Vllaznia, a club based in Shkodër, Albania. Now, you will find her playing for Rivers FC, a semi-professional team in Kamloops, British Columbia, Canada. The 21-year-old Albanian forward has scored for her national team in World Cup Qualifying but chose to move to Canada to attend Thompson Rivers University (TRU). That might beg you to ask the question, why make the move to a different continent to play semi-professionally? I had the opportunity to speak with Lufo about her career and aspirations moving forward.
A girl from Albania
Lufo was born in Albania's capital, Tirana. Until last year, Lufo's entire career has been in her home country. She has nothing but praise for her home country, stating, "It's not a big country, but for me is everything, it's the place that I started to play and to live my dream."
As a 5-year-old, Lufo began playing soccer with her two older brothers and her friends. She considered every day she got the chance to play a special day. However, she never expected that the game she loved would be her career.
Lufo's career began with KFF Kinostudio in 2016 when she was just 14 years old. Next came a brief stint at KF Tirana in 2019, followed by three years with KF Vllaznia. Vllaznia is by far the most successful team in the Albanian Women's National Championship, winning the last 10 titles. However, the club has really won 13 of their 14 total titles as KF Ada, which eventually merged and became Vllaznia. Lufo found great success at all three clubs, scoring a reported 134 goals in 123 appearances.
Her early success at Kinostudio propelled Lufo to get a shot with the senior Albanian national team in 2019. She scored her first goal for the senior team in 2021 in a World Cup Qualifying match against Armenia. Lufo put the ball past the keeper with a really strong finish to cap off a statement win, 5-0.
The move to Canada
Lufo decided to focus on her studies and her future after putting sports first. She was interested in moving to Canada, and when offered the opportunity, she took it.
"The coach contacted me and showed me his project for the future, so I accepted this opportunity to study and to play at the same time," said Lufo on how the move originated. "To be honest, the decision was very hard for me. I spent the most amazing time ever there [at Vllaznia] and that club gave me everything. They still are my number one family, but I had to study and to find a new adventure for my life. So, I decided to move to Canada and to build something new and different here."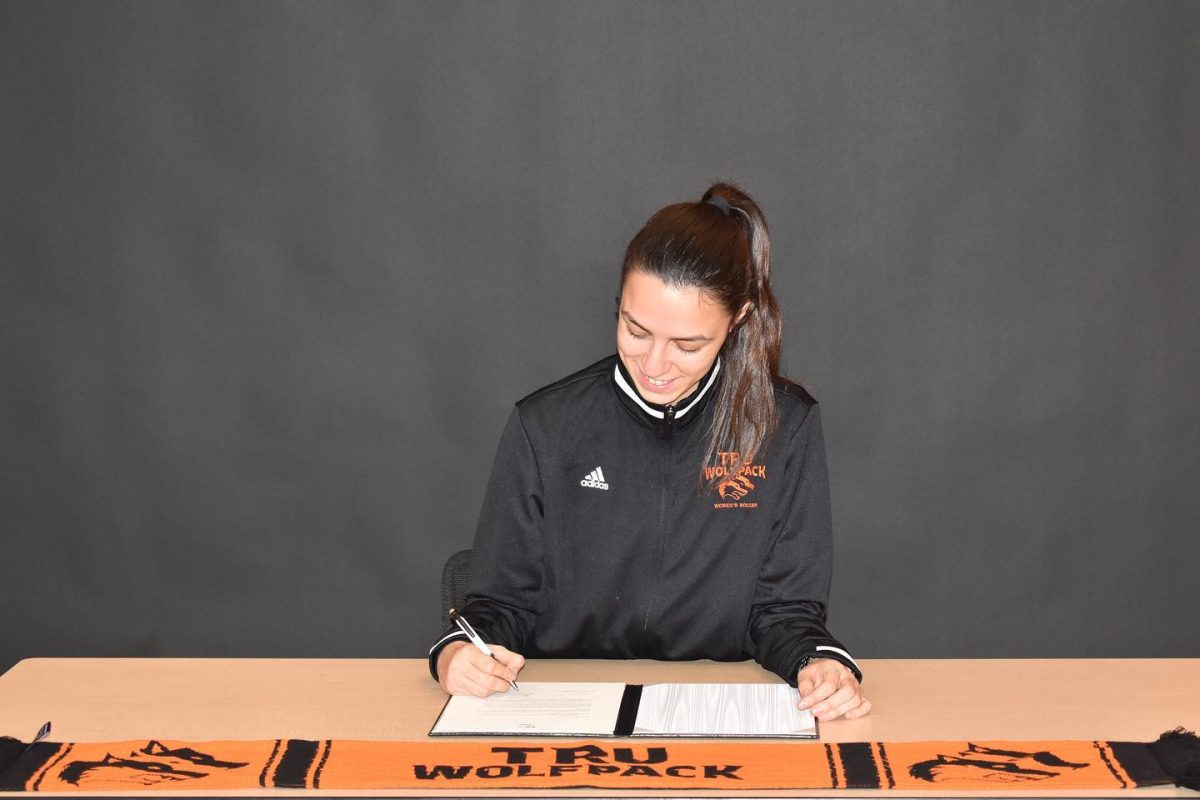 Lufo will be studying Business Administration at TRU. While, she knows the importance of studying for her degree, she is still focused on a career in soccer. When asked if there was a specific career she had in mind that would make use of her Business Administration degree, Lufo replied, "There are a lot of things that I can do with that degree, but I'm focused on my career so far. Maybe after I retire, I'll think more about that."
When asked if she had plans to continue pursuing a career as a professional athlete, she was adamant that was still her goal. "I don't stop! If when I was a kid, it was a dream, I can say that it is again a dream to be back and play at a professional level. After I finish studying, I'll look for opportunities or offers, maybe somewhere in Europe."
League play with Rivers FC will begin at the end of April and run until July 23rd, with playoffs taking place shortly after. Rivers FC competes in League1 British Columbia. Games are available for streaming using HomeTeam. A subscription for League 1 BC is $19.99 CAD (~$14.50 USD) per month or $49.99 CAD (~$36.25 USD) for the season.
Lufo mentioned her dream was to go to Canada and specifically mentioned the upcoming Canadian Women's Professional League as a potential option for her career moving forward. The new league is backed by former Canada international star Diana Matheson and current legend Christine Sinclair and is expected to begin play in 2025.
Already a memorable career
While still only 21, Lufo has made many memories throughout her career. The biggest highlight was this past season with Vllaznia in the Champions League. "We had a big success last year facing the best teams in Europe, such as Chelsea, PSG, Real Madrid. I will never forget this time."
Playing against star-studded lineups with the likes of Lauren James, Lieke Martens, and Caroline Weir would be an incredible moment for anyone. For Lufo, someone who never expected to play professionally at all, those were moments she would remember forever.
Lufo mentioned her favorite player growing up was Zlatan Ibrahimović and that most of my friends called her after him. Lufo enjoys following AC Milan and FC Barcelona when she gets the chance. She mentioned she loves to watch and try to learn from their strikers to help improve her game. Now with her free time in Canada, you can often find her dribbling the ball at the university field.
To keep up with Lufo's career, consider purchasing a subscription to stream League 1 BC at HomeTeam here or follow her on Instagram.
If you really want to know Esi Lufo, you can remember the words she wanted to share about herself to close our talk: