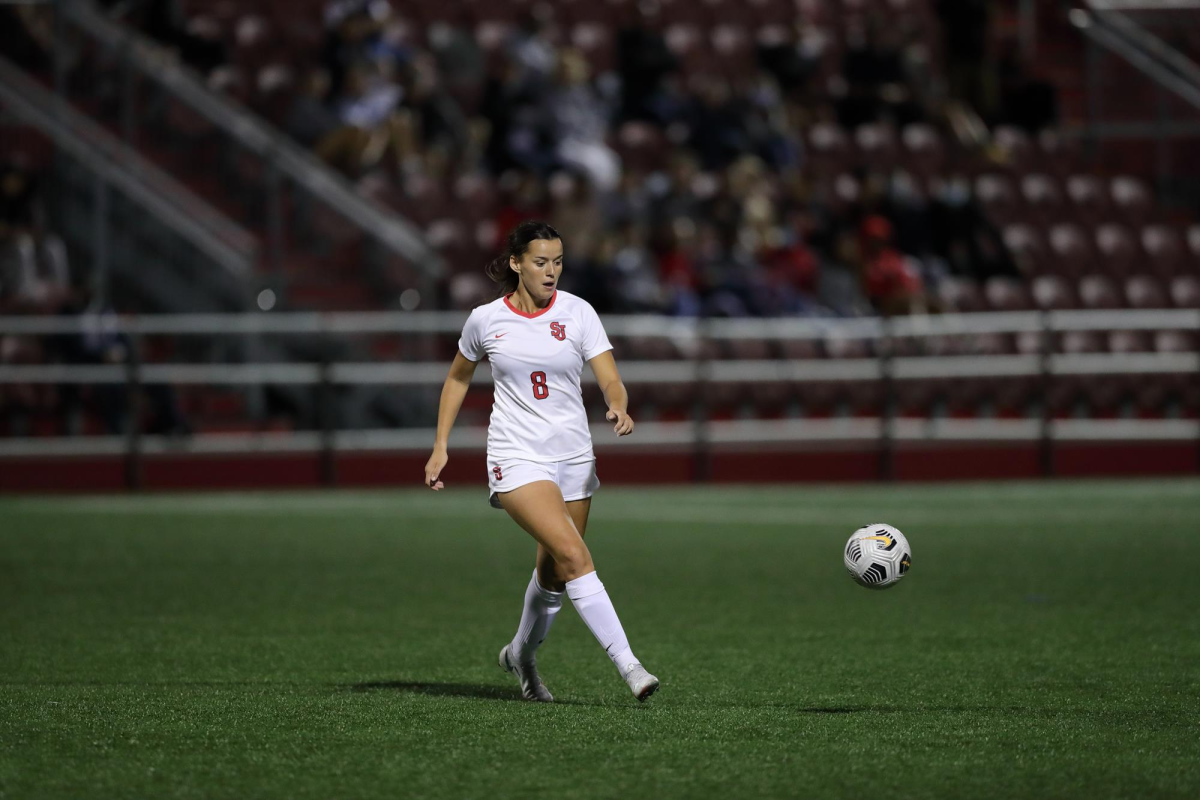 Ava Collins was a regular with the New Zealand U-20 team, where she appeared eight times and scored six goals. In October 2021, Collins took her initial steps to secure a place for herself on the senior team by making her first appearance in a match against Canada, and by the time 2022 came to a close, Collins made six more appearances for the senior national team. So it feels like only a matter of time before she makes the leap to being a regular player for New Zealand – if she's not already there.
I had the privilege to speak with Collins about her career so far and her goals for her future.
Growing Up in Auckland
Ava Collins grew up in Auckland, New Zealand. Now 20 years old, Collins mentioned she didn't start playing club soccer until she was 13. Despite the late start to club soccer, Collins was hooked. She focused all her energy into improving and going somewhere with the sport.
Soccer runs through Collins' family, too. "It's kind of run in the family down my father's side. My grandad played professionally, and my dad and his five brothers all played at a high level, too," Collins said. While the sport ran through the male side of her family, she has firmly started the female lineage herself.
Collins played multiple sports as she grew up, but always gravitated toward soccer. She felt it brought out the most competitive side of her personality.
College Days
Today, you will find Ava Collins studying Television and Film at St. John's University in New York City, while she also plays for their women's soccer team. While it's not uncommon for soccer players outside the United States to attend college here, I'm always curious what brings each person here individually. Collins shared there were many factors that led to her decision to attend St. John's.
"I think at the time it seemed like an opportunity I just couldn't pass up. The idea of attaining a free education while playing football in a country where women's football and sport in general is highly valued seemed like a dream to me."
While she likely could have joined a team in the A-League, Collins didn't want to pass on the opportunity to have a college experience. By attending St. John's University, she was able to continue growing and improving her skills at a high level.
"I always kept the mindset of just give it a go, worst case scenario, you don't enjoy it, you just come home. Luckily, I love it here and am so grateful for this opportunity."
While Collins is only 20 and likely has a long playing career ahead of her, I asked if she had any idea on where she sees herself after she stops playing soccer.
"I think it's always good to think ahead. Personally, I think I'll always be involved in the sporting world in some way. The dream is to be a sports commentator or broadcaster after football; hence, why I'm studying Television and Film."
Playing Professionally?
With a move to the United States for college, I asked Collins if her aspirations were to play in the NWSL or if she would prefer playing in Europe. She shared that she wasn't sure what she wanted to do yet. However, she said she would be happy to play in either the NWSL and Europe due to the high caliber of players and clubs. She did mention one European country in particular. "I would love to go to France and play over there to continue my learning of the language and culture."
The Football Ferns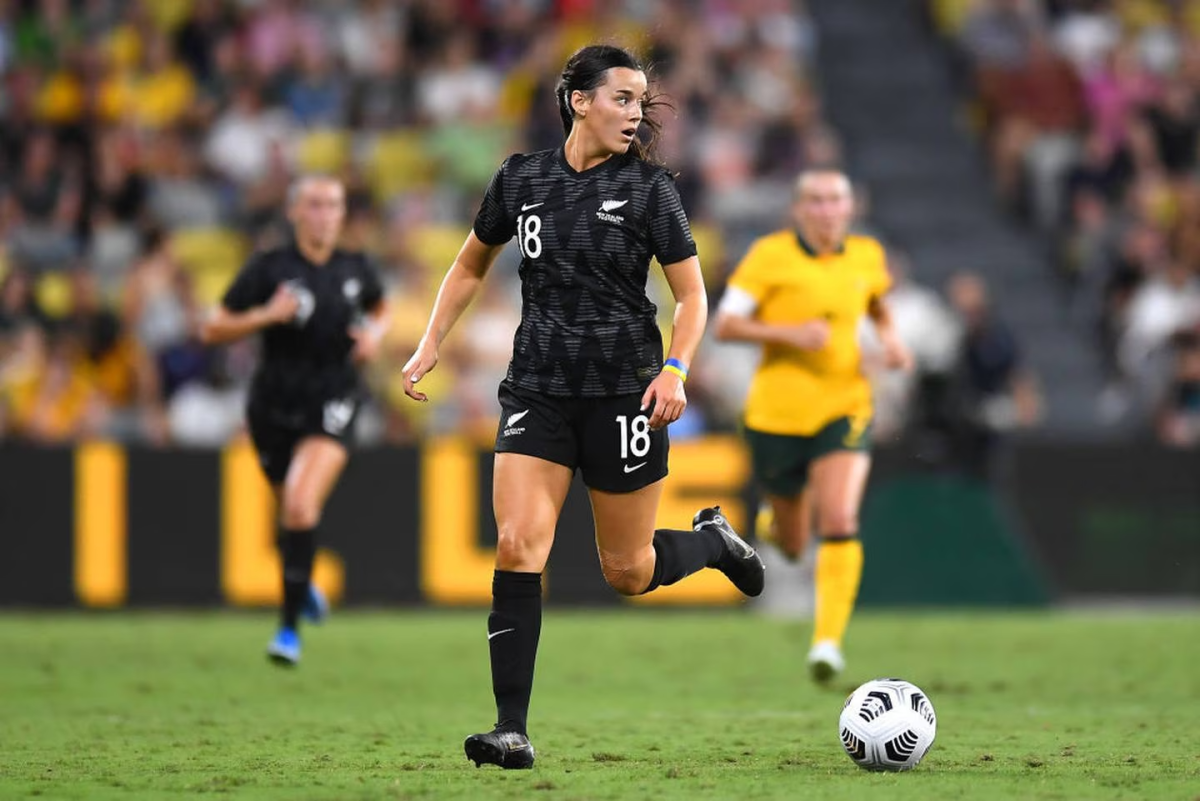 As previously mentioned, Collins made her senior debut for the Football Ferns in October 2021 against Canada in Ontario. She shared that despite the score on the field, this was her favorite moment of her career so far.
"We played against the reigning World Champs at the time, Canada, in front of 25,000 home fans. I got on and ended up winning us a penalty. It was incredible to step on the field with so many players I had admired and learnt from before, and just feel the atmosphere at that level. It was a pretty surreal moment."
With Australia and New Zealand hosting the World Cup this summer, Collins could very well soon have a new favorite moment of her career. Being selected for a World Cup that is hosted in your own country is something very few professionals have the opportunity to do in their career. Collins has hopes to to earn the opportunity to represent her country on the world's biggest stage. I asked her how it felt to have her home country hosting the World Cup.
"It's kind of hard to put into words. I mean having the World Cup in New Zealand is truly a once in a lifetime opportunity. It means so much to everyone involved in football and women's sport in general. I think it's going to be so special and I can't wait to see how it impacts the future of the sport in our country."
Football as a Fan
Collins shared that in her youth she was a big fan of Wayne Rooney and Cristiano Ronaldo. "My family followed Manchester United. So, they were big idols for me, but I think in the women's game now there are so many amazing female role models that I continue to look up to. It's incredible to see more and more female athletes getting that kind of exposure to inspire future generations."
Collins mentioned that she follows a lot of different teams in both men's and women's soccer, but says she is still a Manchester United girl at heart. However, she did say that she has a soft spot for Tottenham and Lyon. "I'm sure that answer is going to make some heads turn."
Outside of Soccer
Outside of soccer, Collins has many interests. She told me she loves learning French and learning more about French history and culture, and also has a knack for music. She mentioned she plays guitar, drums and piano. Collins credits growing up in New Zealand for her varied interests. "Growing up in New Zealand, I think we are exposed to so many cultures and experiences that I've just always wanted to try everything and learn as much as possible."
In addition to her affinity for playing instruments, Collins also mentioned she is a killer beatboxer and breakdancer. "Just ask Daisy Cleverly," she said.
While, to my knowledge, there are no videos of Ava Collins the beatboxer and breakdancer, there is proof of her marker cone DJ skills in collaboration with New Zealand captain Ali Riley. When asked about this skill, Collins said, "We do it for the people. Riley and I are planning our next show as we speak. Big things coming… watch this space."