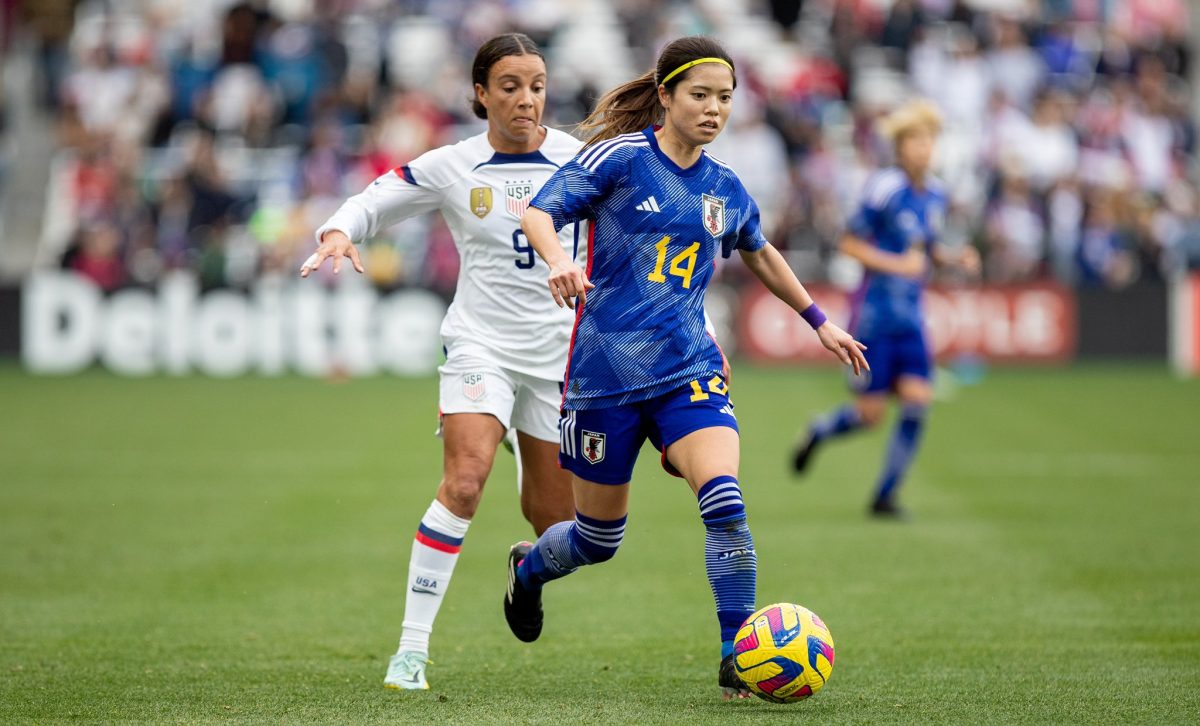 USWNT
Rotation, but not for Lindsey Horan
Head coach Vlatko Andonovski made five changes to his starting lineup from the opening match against Canada, but Lindsey Horan wasn't one of them. It's likely not the best sign that Andonovski believes he can't fully rotate his midfield, requiring Horan to pile minutes into her legs. This is a worry primarily because of precedent among the U.S. Women's National Team setup, but also Horan has been battling knee inflammation for a while. In fact, her teammates at Lyon nicknamed her 'Patate' ('potato' in French) because of what her knee looks like when it swells.
This over-reliance also doesn't exist in isolation. USWNT midfielders Julie Ertz and Sam Mewis went through periods of extreme overuse at the club and International level, and both have yet to return to consistent competitive action since the 2021 Olympics (a tournament both played while injured). Andonovski needs to find a way to spell Horan, give the team versatility and also avoid Horan suffering a similar long-term injury as those to Ertz and Mewis.
Midfield remains a concern
From the first minutes of the match to their final flurry of chances, Japan completely overran the USWNT midfield. Japan's cohesion, movement and tactical plan allowed them to have their way with the World Cup champions. Part of this was Andonovski's curious decision to revert to an old tactic that pushed Horan high while leaving the width of the pitch to cover. Even more curious was that he attempted this with Kristie Mewis – not a natural defensive midfielder – slotted into defensive midfield. Ashley Sanchez was also pushed into the forward line, leaving no midfielders to play the ball to when the defense, or Mewis, claimed possession.
Eventually, he made the tweak to mimic the second half of the team's last game against Germany and the SheBelieves opener versus Canada and brought Horan closer to Mewis, but the midfield was still largely disjointed in possession and defense. These issues led to the USWNT having just five shots total in the game, their lowest since 2016. Time is running out for Andonovski to find consistent cohesion in the midfield, and it might be time he start looking for answers that aren't among the midfield pool.
Casey Murphy kept Japan out
The 6-foot-1-inch North Carolina Courage goalkeeper broke through to the national team last year. Since, she's been called into every camp unless injured, while the third keeper slot has rotated between Jane Campbell, AD Franch and Aubrey Kingsbury. It seems Murphy is tabbed to be next after Alyssa Naeher. However, Murphy didn't have an excellent club season, and she's had shaky moments for the USWNT.
Against Japan, despite being saved by a crossbar when a shot caught her too far from goal, Murphy came up big when needed. Two point-blank, instinctual reaction saves kept Japan's best efforts from counting on the scoreboard. After the match, the USWNT account posted a video of Naomi Girma and Megan Rapinoe heaping praise on the keeper, with Rapinoe seeming to reference the monetary bonus her saves secured by preventing the win from becoming a draw.
---
Japan
Japan won the midfield battle
Japan's 3-4-3 has been a joy all tournament. Despite using just two central midfielders, they've managed to control games versus Brazil, and now the USWNT. The midfield pairing of Fuka Nagano and Yui Hasegawa has worked exceptionally well, with both players' movement, close control and eye for passing angles causing all sorts of problems for their opponents.
Hasegawa was particularly impressive against the Americans. She was able to drift into dangerous pockets and spray dangerous passes around the pitch, forcing the USWNT defense to scramble to react on multiple occasions. Despite having played four fewer games than the USWNT in 2022, and their last match action prior to SheBelieves being a loss to Spain in mid-November, the team looked more cohesive and consistently dangerous.
Poor finishing is ruining quality showings
The only blemish on Japan's performance was (yet again) their inability to capitalize on their intense, high-quality play. Despite hitting the crossbar and pulling out a couple of very good saves from Murphy, Japan frequently got the final shot or pass all wrong. It was a shame because on another night, and with an above-average finisher, they could have been out of sight before Mallory Swanson's game-winning sucker punch of a goal in the 45th minute.
Head coach Futoshi Ikeda once again called on Jun Endo and Maika Hamano as subs for a more direct attack, but by then Japan's intensity had dropped a level. It might be worth starting a match with Endo, Hamano or both to increase the probability of capitalizing on early control of matches. Japan deserves high praise despite their results, though a pair of 1-0 losses can't help but sting, particularly given the balance of play and chances created.
Japan Football Association takes the tiniest of baby steps
The last time Japan played, you wouldn't have known it from the team's official Twitter account. There was no activity until two hours after the match when they posted the final score. As a result, during the match former national team players Yuki Nagasato and Naho Kawasumi voiced their displeasure on Twitter, with the latter live-tweeting the match herself.
An hour before kickoff it seems the JFA had gotten the message after they posted the starting XI. However, no other tweets or highlights – against the World Cup Champions – were posted beyond the halftime and final score. Instead, Kawasumi spent yet another match live-tweeting the game herself.
---
Canada
Purple for equality
Canada players continued their fight for proper treatment from their federation by yet again walking out with purple shirts which read "ENOUGH IS ENOUGH" instead of their regular training tops. The Canada WNT/XNT's struggles with their federation have prompted shows of solidarity from around women's football. The USWNT, Japan and England have all worn purple wristbands to show support.
While the USWNT flew a charter plane to Nashville, Canada apparently flew Southwest. These are the problems players are highlighting. While pay is important, the issue goes deeper and is one of fairness and adequate support.
A moment to breathe helped Canada get back to the real Canada
The weight of the week of public pressure on their federation, plus the backlash from the federation and threats to sue, all in the leadup to their SheBelieves Cup opener with the USWNT had taken its toll, and it showed. "I think it was a little bit more fun today and a little bit less weight on our shoulders," said goalkeeper Kailen Sheridan postgame. "We just wanted to come back to who we are, and why we play, and have some fun."
In their second match, they were much more like themselves. The defense frustrated Brazil's attack, stepping out time and again to break up plays before ideas could formulate, eventually relegating Brazil to relying on 1v1 battles far away from goal. When at their best, Canada is a defensive team that can smother opposition attacks before they start, and on the other end they used two goals from dead ball situations to secure the win.
Canada gave youth a chance
Jade Rose, who attends and plays for Harvard, and Simi Awujo, who's had two impressive seasons with USC, were both in the starting lineup against Brazil. Early in the match, Rose crafted one of the best chances of the half when she floated a ridiculous diagonal ball up the pitch to forward Janine Beckie.
Awujo started at attacking midfield, replacing Christine Sinclair, and showed some flashes. While she would probably be more comfortable in a deeper role, it was important experience against a quality opponent. Awujo was replaced by Sinclair at halftime while Rose put in a full shift, playing all 90.
---
Brazil
Kerolin's deeper midfield role
For the second match in a row, Kerolin has been playing a deeper position in Brazil's midfield. Frequent NWSL watchers might be scratching their heads about it, considering how devastating she was as an attacking force in the forward line, particularly for her ability to beat players 1v1 and deliver dangerous crosses into the box. Instead, head coach Pia Sundhage is using Kerolin's energetic running and tenacity to patrol midfield.
To Kerolin's credit, she hasn't looked out of place in the role. She's gotten stuck in when need be and been decently tidy with possession and passing. However, it's still a curious move, particularly for a Brazil team that has yet to find its stride in attack, despite the glut of talent on their team.
Brazil ran out of ideas
Brazil should be one of the most fun attacks in women's soccer. Debinha and Marta are already legends of the game, Geyse has been unreal for Barcelona this season, Raysla has had fantastic moments for Benfica in the Champions League and Adriana is an intriguingly dangerous player as well. Kerolin isn't playing in attack, but should also be added to this list. Simply having the players all wearing the same shirt isn't enough, and head coach Pia Sundhage needs to find answers.
On Sunday, Brazil played into Canada's hands by devolving into ball-watching and isolation play. As a result, Brazil struggled to come up with ideas to test a resolute defense. Coordinated movements plus Brazil's technical skill and creativity could have made the match much more difficult for Canada. Apart from a couple of promising runs from Ludmila, attack after attack stalled at the feet of players left without many options on the ball. Through two games Brazil has twenty-three total shots and one goal, which was created by Marta just minutes into her return to the pitch after rehabbing from a torn ACL.
Brazil still looking to bridge generations
During the 2019 World Cup, Marta made a passionate plea postgame. The clip went viral, and still elicits an emotional response. Marta was calling for a newer, younger generation of Brazilian talent to grow and surpass her, and her generation's, accomplishments. While Marta is still playing, some young players have answered the call. Geyse (24), Nycole Raysla (22), Kerolin (23) and Ana Vitória (22) have all become important pieces of Brazil's future.
However, it's taken some time to bridge the gap, and there's still work to be done. The lone goal scored by the Brazilians at this year's SheBelieves Cup came after Marta (now 37) made her competitive return to assist Debinha (31). While Marta's plea has been heard, time is running out to find the synchronicity the team will need to make waves in the 2023 World Cup. Or, maybe this is just the crying period, and the smiles will come.