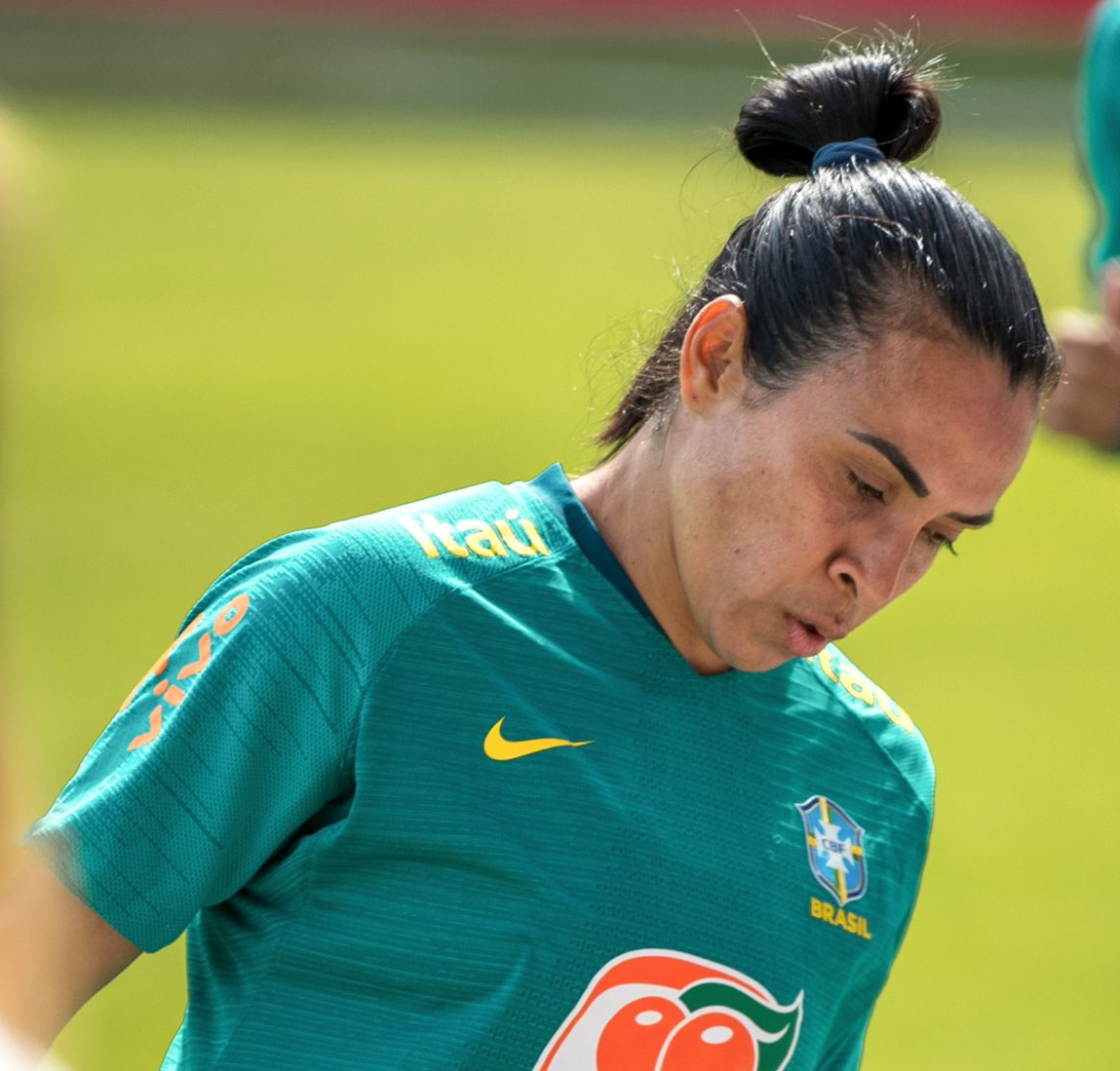 The 2023 SheBelieves Cup kicked off Thursday with two absolute bangers. Japan and Brazil faced off in a back and forth, open match where the deciding action came straight from the storybooks. Then the USWNT faced 2020 Olympic gold medalists Canada. The match was marked by protest due to Canada Soccer's continued mistreatment of their national team programs, and bullish response to players demanding change. However both teams were too talented to not put on a fun match once the ball got rolling, and there's plenty to talk about.
Here are three takeaways from each team in the 2023 SheBelieves Cup's opening round:
Brazil
Marta is back and the world is 37% brighter
Within minutes of stepping back onto the pith for the first time since tearing her ACL in late March of 2022, Marta wasted no time in getting back to being Marta. The phrase is 'if you stay ready, you don't have to get ready' and no one is ever more willing or enthused to be on grass with a ball at their feet than Marta Vieira da Silva. Until Marta showed up, Brazil had been one step, one second away from the final connection that would give them a goal.
But this is Marta's impact; it's tactical yes, but also surely something much more, a mutual adoration. Marta created a sliver of space and sent the ball into a pocket for Debinha to attack. It looks simple, it isn't, which is the genius of Marta.
Brazil's defense withstood a difficult challenge
Bruninha was given the difficult job of controlling the right flank of a team playing a super wide attacking 3-4-3 (more on that later). Japan was able to work the ball into dangerous pockets through width and timing. This could have been a bit of a nightmare for a fullback, and early on looked to likely to be a problem for the Brazilians all match.
Then, Bruninha and Brazil settled in, helping to keep their potent attack higher up the pitch (which resulted in Japan/Brazil being the most fun match of the day). Bruninha in particular used a smart balance of positioning and aggression to cope. The Gotham FC fullback, along with other backline standout Rafaelle (center back), helped keep a free flowing Japan to just one shot on target.
Brazil's lineup was a sneak peek at a fun upcoming NWSL season
Five players in Brazil's starting XI will play club football for NWSL teams in 2023, two of which (Adriana, Orlando Pride; Julia Bianchi, Chicago Red Stars) were signed this offseason. Bruninha signed for Gotham FC last August, but only appeared in one match as a substitute in 2022. As such, multiple fanbases got to see their new (or new-ish) signings in action.
Bianchi did well to cover space against the tricky midfield of Japan. Adriana was the only attacking player to play all 90 minutes for Brazil, and Bruninha was key to coping with the width created by Japan's 3-4-3 (for more, scroll up). Unfortunately most of Brazil's attacks were just a yard away from coming to fruition, but the team managed to cope well with a difficult system filled with highly technical players. Still, Brazil put more shots on target and, shockingly, completed more passes despite having a smidge less possession. It was a fun game in which Brazil eventually prevailed, and a lot of the players responsible will be available to see live at an NWSL stadium near you (HASHTAG GO TO GAMES).
Japan
The Japan Football Association is letting down its players, and fans
Apparently, the Japan Football Association (JFA) didn't bother to fly anyone to America who knew the Twitter password to the team's official account. The match kicked off at 6am local time in Japan, so it's potentially understandable that a social media admin was not tasked with starting their day with a 5am lineup drop (though LOL for anyone who's worked socials in soccer before). As a result, Gotham FC midfielder Naho Kawasumi took it upon herself to live tweet the entire match.
The JFA also failed to secure broadcast rights for the tournament, missing out on money from sponsorship and advertising agreements that could have been made, and leaving supporters without a way to watch their team – in a World Cup year. Chicago Red Stars attacker, Yūki Nagasato, called the federation out on her own Twitter account, and published a piece detailing her frustrations.
Japan's 3-4-3 was bold and fun as hell
A consistent knock on Japan has been that coaches rarely allow their team to live up to the collective fun quotient of their players, instead opting for control rather than impetus. That, rather delightfully, was not the case against Brazil. Portland Thorns midfielder Hina Sugita and West Ham defender Risa Shimizu played as wide, attack-minded wingbacks, frequently combining with the wingers along the front line, Minavi Sendai forward/midfielder Hinata Miyazawa and 19-year-old Tokyo Verde forward Aoba Fujino.
Centrally, the highly mobile pairing of Liverpool's Fuka Nagano and Manchester City's Yui Hasegawa allowed them to consistently find gaps and pockets to pass and receive the ball and move it up the pitch. The result was a risky, yet extremely fun approach that finally capitalized on the creativity within the squad. Spreading the team that wide against a team like Brazil which craves space was an unexpected tactic, but it showed that Japan could defend and cause plenty of trouble on their own. While the final touch went begging at the end of multiple good moves, for the first time in a long time, Japan looked dangerous against top-level competition.
18-year-old Maika Hamano is already several problems
Hamano won the golden boot in the 2022 U20 World Cup and the 18-year-old was signed by Chelsea this January. She went on loan to Hammarby IF in the Damallsvenskan, the top women's league in Sweden. Wasting no time showing off the range of her talent, Hamano scored two goals in each of her first two games and delivered an assist from her own half.
Her talent was on display again when she entered the match versus Brazil in the 56th minute. Hamano combined with fellow substitute Jun Endo (Angel City FC) to give Brazil a whole new set of direct problems. Hamano made runs to give space to other attacking players, attempted to play teammates behind the defensive line, smashed a long distance shot onto the crossbar, and won possession in Brazil's box to setup Japan's best chance of the match.
---
Canada
ENOUGH IS ENOUGH
After Canada Soccer threatened their players with a lawsuit in order to prevent them from going on strike due to a lack of pay, proposed budget cuts and inadequate resources in a World Cup year, the players promised action. Players walked out of the tunnel ahead of the match in purple shirts with 'ENOUGH IS ENOUGH' on the front. Prior to that, the players released a statement through their Twitter account: 'Tonight, our players will be wearing purple as a symbol of protest. Purple has historically been associated with efforts to achieve gender equality. Considering the current circumstances, our players will continue to wear purple until our association has standards in place that ensure equal treatment and opportunity.'
Long may the Grosso-Fleming pivot reign
Throughout the Concacaf W Championship in the summer of 2022, head coach Bev Priestman started two defensive midfielders, Quinn and Desiree Scott, in every match except against Panama. Curiously, that was the game in which they scored the fewest goals (1) before the championship game when they were shutout by the USWNT. While defense-first football won them a gold medal a year prior, the Canada attack is too talented to be throttled back on purpose.
Though Scott picking up an injury before the tournament may have forced her hand, Priestman started their SheBelieves Cup opener with Julia Grosso (Juventus) and Jessie Fleming (Chelsea) sharing defensive duties from a double pivot. After the Concacaf tournament, Priestman named the pairing in friendlies against Australia, Argentina and Brazil, and it's a positive sign that she chose to persist USWNT. Both players have bite to their game, are good at reading buildup play, and are smart movers and chance creators. If allowed to continue developing their partnership, the duo could own Canada's midfield for the next ten years.
Canada's CBs are several cinder blocks on rollerblades
Unfortunately no one is more aware of this than USWNT midfielder Ashley Sanchez. During one of the USWNT's attacks some solid footwork and interplay saw Sanchez collect the ball in the box with a bit of space to use her dribbling skills to create a chance. Sanchez received the ball, attempted a clever turn with a spin but ran straight into Canadian center back Kadeisha Buchanan.
Buchanan and center back partner Vanessa Gilles were active and aggressive all evening. Popping out to chase the ball wide or using strength and positioning to . Despite the USWNT camping in Canada's half for stretches throughout the game, Canada's central defensive pairing, along with stellar goalkeeper Kailen Sheridan, only conceded through a brilliant snap strike from Mallory Swanson and a poor back pass from Gilles.
USWNT
Mallory Swanson been this
Despite poor framing by the commentary team, Mallory Swanson has been this for a while. Her promise as a teenager, which led to her to lead her team in scoring her rookie year and make her USWNT debut when she was just 17-years-old, was that she'd become one of the best players in the world. She's now 24, and firmly implanted in these conversations.
Swanson has been a consistent MVP-caliber player for her club team, Chicago Red Stars, and a vital piece in the USWNT's best lineup. When either team need a goal, Swanson is proving they can look to her to deliver. She drove the Red Stars attack in 2022, piling up career highs of 11 goals and 6 assists, and has now scored five times in the USWNT's last four games, against Canada, New Zealand and Germany.
Aggressive Andi Sullivan is our favorite Andi Sullivan
Sullivan is a versatile deep-lying midfielder. She possesses a cerebral element to her game, in which she pulls strings from midfield, finding gaps feed the ball through or creating direct scoring chances from deep. Because of this, it's been assumed that she wasn't up to the physical standard set by Julie Ertz for a USWNT defensive midfielder.
However, Sullivan has another part to her game: a proactive ball winner. In order to take full advantage of this, head coach Vlatko Andonovski needed to find a system that would allow Sullivan to switch into seek & destroy mode. With Lindsey Horan playing as a box-to-box central midfielder (more on that later), Sullivan was finally given the freedom to hunt.
Horan can be the dynamic 8 the USWNT has been missing
For some reason, the broadcast kept mentioning Lindsey Horan's 'new role' as a double 6, which was weird and confusing. Especially since it was always followed up with emphasis on how much more freedom she had in the role. A defensive midfielder, by definition, concerns themselves with defensive areas. Horan's role went beyond that.
She was given the freedom to roam box-to-box, but in a more discerning way than she'd done before. In addition to helping defensively, she was also asked to help move the ball up the pitch by dribbling through midfield or with forward passes. In essence, Horan was the dynamic box-to-box midfield 8 that the USWNT had been missing since Sam Mewis.