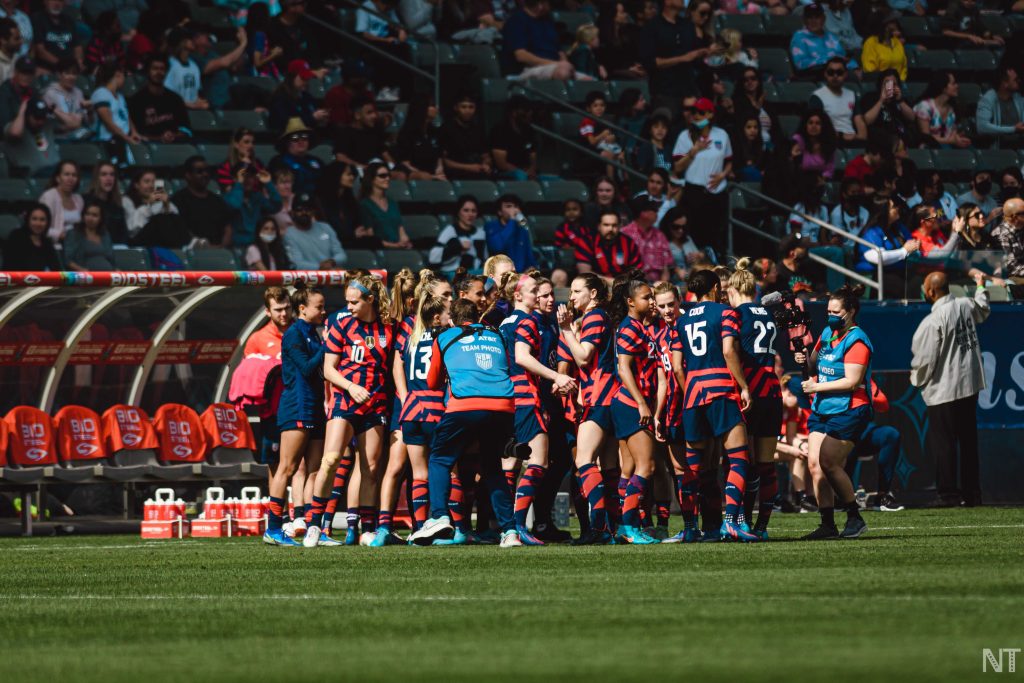 Rosters have been dropping for the upcoming SheBelieves Cup tournament, and big names are returning to the pitch after some time off.
Marta will be back for Brazil for the first time since she tore her ACL during the 2022 National Women's Soccer League (NWSL) season. She'll be joined by Debinha, who recently signed with the Kansas City Current as well as new Chicago Red Stars signing Julia Bianchi, also of the NWSL.
Canada released a pre-camp roster on Tuesday as well and will hold a five-day camp leading into the tournament that will feature mostly out-of-season athletes. The final SheBelieves Cup roster for Canada will be announced ahead of its first match on Feb. 16.
Megan Rapinoe returns to the United States side, after missing the USWNT's trip to New Zealand in January. Another notable return to camp is Chicago Red Stars defender Tierna Davidson, who is in the final stages of returning from an ACL injury and will take part in camp before the tournament begins. Davidson however will not be on the final tournament roster.
Japan will also be competing in the SheBelieves Cup, but have as of yet to drop a roster for the tournament.
The 2023 SheBelieves Cup will kick off in Orlando, Florida on Feb. 16, then will head to Nashville, Tennessee for two games on Feb. 19, concluding in Frisco, Texas on Feb. 22.
Rosters:
Brazil
Goalkeepers: Letícia (Corinthians), Lorena (Grêmio), Luciana (Ferroviária)
Defenders: Bruninha (NJ/NY Gotham FC), Tainara (Bayern München), Rafaelle (Arsenal), Kathellen (Real Madrid), Lauren (Madrid CFF), Tarciane (Corinthians), Yasmim (Corinthians), Tamires (Corinthians)
Midfielders: Adriana (Orlando Pride), Ary Borges (Racing Louisville), Ana Vitória (Benfica), Julia Bianchi (Chicago Red Stars), Kerolin (NC Courage), Marta (Orlando Pride)
Forwards: Bia Zaneratto (Palmeiras), Debinha (Kansas City Current), Gabi Nunes (Madrid CFF), Geyse (Barcelona), Ludmila (Atlético Madrid), Nycole Raysla (Benfica)
Canada
Goalkeepers: Lysianne Proulx (SCU Torreense), Kailen Sheridan (San Diego Wave FC)
Defenders: Vanessa Gilles (Olympique Lyonnais), Jade Rose (Harvard University), Bianca St. Georges (Chicago Red Stars), Gabrielle Carle (Washington Spirit), Allysha Chapman (Houston Dash)
Midfielders: Quinn (OL Reign), Simi Awujo (University of Southern California), Victoria Pickett (NJ/NY Gotham), Sophie Schmidt (Houston Dash), Christine Sinclair (Portland Thorns FC)
Forwards: Amanda Allen (NDC-CDN Ontario), Janine Beckie (Portland Thorns FC), Jenna Hellstrom (Dijon Football Côte d'Or), Jordyn Huitema (OL Reign), Clarissa Larisey (BK Häcken FF), Evelyne Viens (Kristianstads DFF)
United States
Goalkeepers: Adrianna Franch (KC Current), Casey Murphy (NC Courage), Alyssa Naeher (Chicago Red Stars)
Defenders: Alana Cook (OL Reign), Emily Fox (NC Courage), Crystal Dunn (Portland Thorns FC), Naomi Girma (San Diego Wave FC), Sofia Huerta (OL Reign), Becky Sauerbrunn (Portland Thorns FC), Emily Sonnett (OL Reign)
Midfielders: Lindsey Horan (Olympique Lyon), Taylor Kornieck (San Diego Wave FC), Rose Lavelle (OL Reign), Kristie Mewis (NJ/NY Gotham FC), Ashley Sanchez (Washington Spirit), Andi Sullivan (Washington Spirit)
Forwards: Ashley Hatch (Washington Spirit), Alex Morgan (San Diego Wave FC), Midge Purce (NJ/NY Gotham FC), Megan Rapinoe (OL Reign), Trinity Rodman (Washington Spirit), Mallory Swanson (Chicago Red Stars), Lynn Williams (NJ/NY Gotham FC)