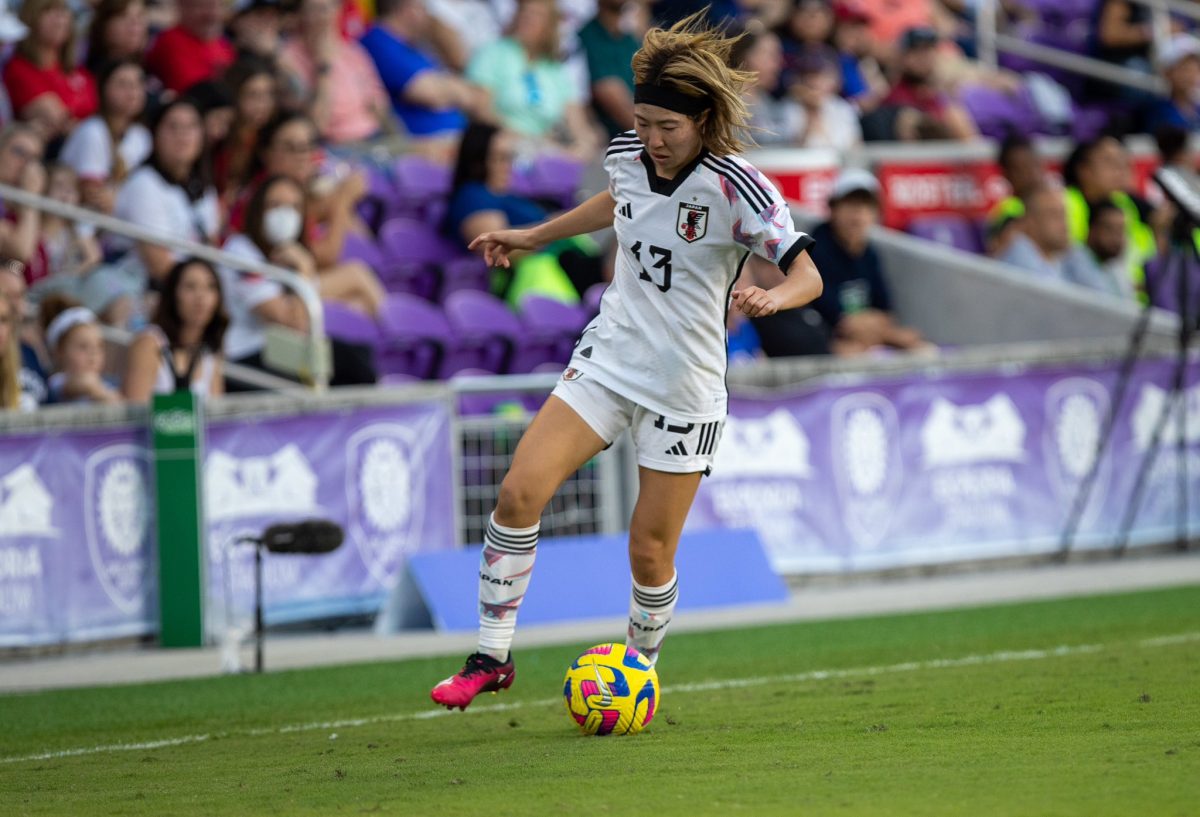 The 2023 SheBelieves Cup is over and the trophy has been lifted. Each team used the tournament a bit differently, and results varied. Now that the tournament is over, let's take a look at the key takeaway for each team…
---
Canada
Canada began their tournament intending to strike over a lack of transparency over finances, inadequate resources and proposed budget cuts to the national team program months before a World Cup. The only reason the team played was because their own federation threatened to sue them, invoking Ontario Labour Law which states that laborers must provide 14-day notice before a strike. With that backdrop, it's unfair to dissect their on-field performances.
Canada have a golden generation that already has a gold medal from the 2020 Olympics (played in 2021), but their federation has signaled their intent to support them in bare minimum ways. Canada's next scheduled match is in April, and whether that match is played or not is going to be up to Canada Soccer.
Regardless, this is a fight players shouldn't have to undertake ever, but particularly months before the biggest tournament of their lives.
---
Japan
Japan's coaches and players used the 2023 SheBelieves tournament the best of any team in the competition (their federation is a different story). Japan's new 3-4-3 formation was tweaked in every game to find ways to solve various problems and maximize its effectiveness. While their first two matches were 1-0 losses (Brazil, USWNT) despite dominating phases of play in both matches, they made the necessary adjustments to explode for three goals against Canada.
Part of this change was starting the match with Angel City FC attacker Jun Endo, who came off the bench in the first two games. Endo was a constant threat to unsettle the backline, and also added to her highlight reel by executing a nutmeg against one of the best center backs in the world, which was eventually given as a penalty, helping Japan push their lead to 2-0.
Japan came into the tournament with a great tactical plan, and by the end had grown well enough in it to dominate against two top-10 opponents and then exploding against the reigning Olympic gold medalists. If Japan continue to find solutions to get the ball in the back of the net – which may include finding more space for ultra talented teenager Maika Hamano – they'll have gone from a team that underachieves to a real threat to go deep in the World Cup.
---
Brazil
Brazil had a bit of a weird tournament. They got ran ragged by Japan, but grabbed the only goal of the game through some Marta magic in her first minutes back after an ACL injury. Then they suffered the brunt of a bounce back from Canada, losing that match 2-0. Against the USWNT they dominated most of the play, pressing the World Cup Champions and taking the ball off their players seemingly at ease. But a narrow miss and combination play that was just off left the door cracked for the USWNT attackers to do what they do best – and Alex Morgan and Mallory Swanson (Pugh) obliged.
Head coach Pia Sundhage has plenty of talented players to field but has yet to find a way to let them truly shine. While their high pressing finally worked to perfection against the USWNT, their struggles connecting in the final third saw them miss chances or fail to turn possession in dangerous areas into chances. Attempting to break too quickly and combine with flicks and low percentage passes helped make Brazil easier to defend than they should be.
However, they were able to have more joy in buildup play, so it might be worth using their high press to recycle possession and create more opportunities like this.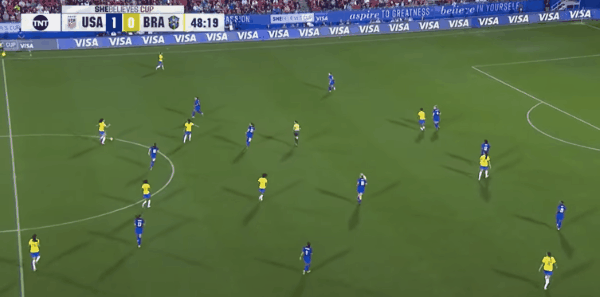 ---
USWNT
Well, this is what it's going to be then. Since the USWNT's poor showing in the 2021 Olympics the team has needed to transition the squad to elevate new talent and find a cohesive scheme to let the new generation shine. One out of two has happened; Andi Sullivan, Emily Fox, Sophia Smith, Mallory Swanson, Trinity Rodman and Catarina Macario are now mainstays in the team. But a reliable scheme has eluded head coach Vlatko Andonovski.
With teams like England, Sweden and Germany able to execute tactical plans at a high level, and teams like Japan, Canada (if their federation stops fighting them) and now Australia growing in formidability, the 2023 World Cup may be the most competitive yet.
The USWNT not being able to rely on a cohesive plan isn't ideal, but the team is filled of ridiculous athletes and several attackers capable of the outrageous. However, the promise of naming Vlatko Andonovski as head coach was supposed to bring a more fluid, club-like cohesion. That hasn't happened, so now it's up to the players to grind through tough phases against quality opposition and hope they can finish low percentage chances.
It worked well enough to lift the 2023 SheBelieves Cup trophy but the World Cup will be much more grueling.