Excerpted from TopBin90.com. To read the rest of the article, click here!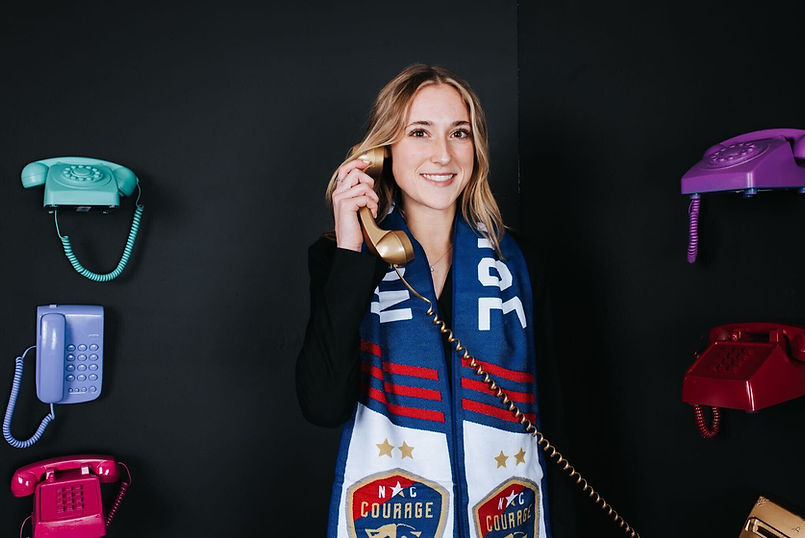 Most NWSL mock drafts didn't project Olivia Wingate going in the first round of the 2023 draft. However, the North Carolina Courage clearly had a plan. With the 6th pick of the draft, the Courage selected Wingate from the University of Notre Dame.
It is clear that North Carolina is banking on a new path moving forward in the league. It started with the departure of Brazilian legend Debinha. Star rookie forward Diana Ordóñez was traded to the Houston Dash on draft day, and the departure of fan favorites Abby Erceg and Carson Pickett followed shortly after. Wingate was one of four first round draft picks made by the Courage, tying the previous NWSL record. This signals the Courage are prepared to build on youth.
 Wingate is a Wilmington, Massachusetts, native and local legend. A gifted soccer player, but also a skillful hockey player, Wingate was named the Wilmington Town Crier's Female Athlete of the Decade in 2019. Wingate was involved with the United States Youth National Teams at the U-16 and U-18 levels and committed to the University of Notre Dame as a high school sophomore.
Injury Setbacks
Before her first college season, Wingate was struck with a knee injury that ultimately kept her from playing for 15 months. After multiple MRIs, it was finally discovered that a piece of the underside of Wingate's patella and the cartilage behind it had broken off and made its way to the medial of her knee. The timeline for her recovery was originally given as four months. As that eventually stretched into 15 months, frustration and fear set in. The recovery period tested Wingate's resolve, as she wasn't sure she would ever be able to play soccer again.
With the assistance of her strength and conditioning coach, Wingate was able to focus on improving everything should could outside of her knee. She focused on things like improving her diet and getting more sleep. Eventually, she felt she was near the strongest she had ever been. Once Wingate was finally cleared to begin training, she played her first game a week later for Notre Dame. You can read about Wingate's journey with her knee injury in an article she wrote for Stronger Scars.
15 months out with an injury would be rough for any player, but for Wingate, a player known for her speed and acceleration, it was a major setback. Through her freshman season, she continued to return to her previous speed and regain her technical skills that had gotten rusty during her injury. After two solid seasons at Notre Dame, COVID-19 hit and disrupted the 2020 season. Wingate was able to travel home and used that time to work hard on improving her game.
Wingate commented on her training at home, "I was doing technical ball against the wall almost every day. Just working on my touch, working on 1v1 moves and things like that."
That time home really propelled her forward in her final two seasons at Notre Dame, which led her to scoring 24 goals in her college career, including 14 in her final season.
"It just kind of took off and I felt like I was playing like me again"
Inspiration As A Player
Growing up, Wingate looked up to many influential women soccer players in the United States, including the legendary Mia Hamm. Some of those women she looked up to were players from her local professional team as well, the Boston Breakers. "I looked up to a lot of Boston Breakers players, so Kristine Lilly was on that team. Sydney Leroux was there, so I got to see them in person, which was super awesome," Wingate said.
Now, Wingate takes the opportunity to learn how to improve her own game while watching top players like USWNT striker Christen Press and Norwegian forward Erling Haaland. "Christen Press is another one that I just really love her and her style of play and attacking mentality."
As for Haaland, Wingate said, "I look to see how he plays, what runs he's making, what sorts of finishes he's doing and I just love to watch him play. I think he's a super exciting player right now."
Excerpted from TopBin90.com. To read the rest of the article, click here!