This article was originally published on Yash Thakur's Dribbles and Nutmegs Substack. If you enjoyed this, please consider subscribing.
Now at 1. FC Köln Frauen, Cerci came back onto the greens with a smile on her face and a dream in her mind to make up for lost time.
Turbine Potsdam were one of the juggernauts of women's football. It was only a decade ago when they were reaching back-to-back UWCL finals and winning the trophy against Lyon in the 2009-10 season. They were in the semi-finals of UWCL as recently as 2013-14. It wasn't that long ago that they were the dominant force in Germany, winning 4 consecutive league titles between 2008-2012.
Turbine Potsdam has been home to some of the best players in world football. Nadine Angerer, Nadine Keßler, Anja Mittag, Tabea Kemme, Babett Peter, Yuki Nagasato, Conny Pohlers, Ada Hegerberg have all donned the jersey at some point in their careers.
Last season Turbine were the 5th youngest side in the league, with an average age of just 23.9 years and just 4 players over the age of 23, and were pushing to be back in Europe once again and Selina Cerci, then just a 21 year-old German striker, was at the heart of it.
Cerci previously showcased her brilliance for the Bayern Munich's reserve sides where she helped them to a 2nd place finish in the regional liga (south) with her 15 goals in 17/18 season before she decided to move to Werder the next season. Although Werder struggled and were consequently relegated, Cerci was still performing well.
After a season back in the 2. Bundesliga Frauen with Werder, Cerci scored 13 goals in 14 games and earned a move to Turbine where she lead the charge for Potsdam's push for European places.
She scored 13 goals last season before picking up an injury, five more than her tally of 2020-21 season, while also creating four for her teammates. She started and played in all 15 games last season, amassing 1308 minutes in total.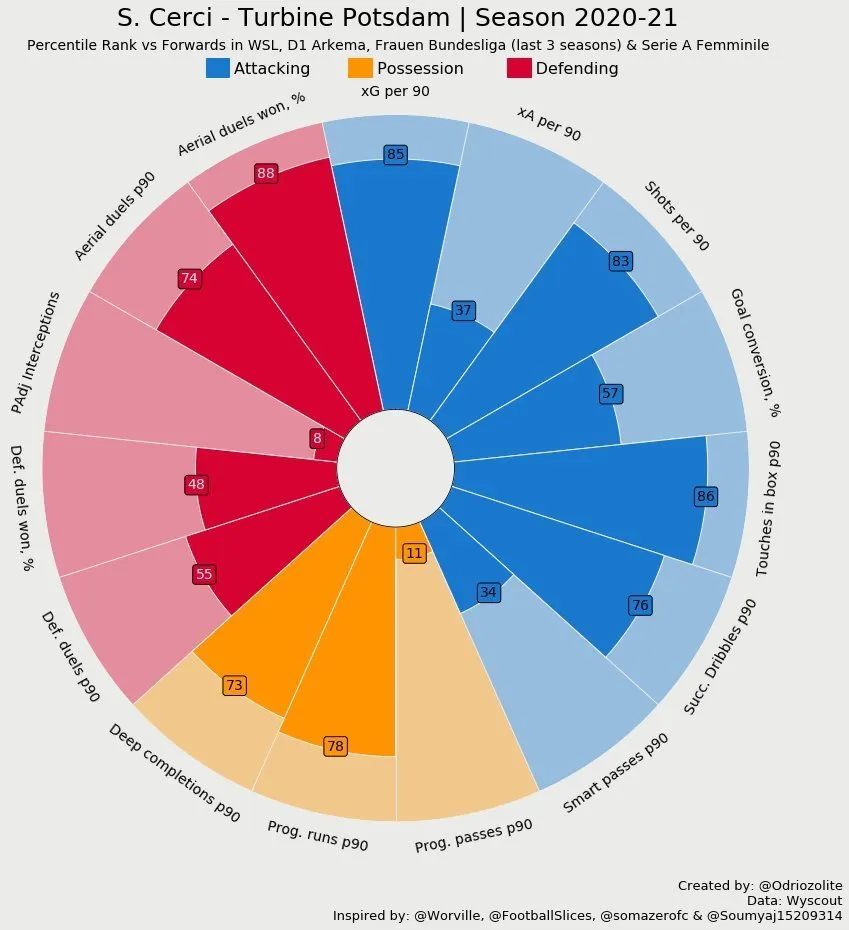 Turbine Potsdam often lined up in a 4-4-2 formation that season with Cerci and Kössler being the 2 up top. Cerci often plays as the left center-forward in the front 2. She likes to operate from out wide as she often peels away and drops to receive the ball before looking to cut in. She has been deployed as the lone striker as well from time to time to varied degrees of success across Werder Bremen and Turbine Potsdam.
Let's take a look at what Cerci excels at and what needs polishing!
Pace and Movements
Cerci is a very direct attacker, looking to move the ball upfield at every opportunity. She uses her speed to make well timed runs in behind the defensive lines. Potsdam are a side that like to press with high intensity, causing turnovers high up the pitch giving them a chance to attack in transitions, this fits well with the directness that Cerci offers.
She likes to drift wide to the left side to receive possession; while offering herself as an outlet in that zone she drops deep, pulling the defender with her before playing it back to a teammate to then turn and run into the space created by her movement initially. This sequence translates into a "up-back-through" pattern and helps create opportunities.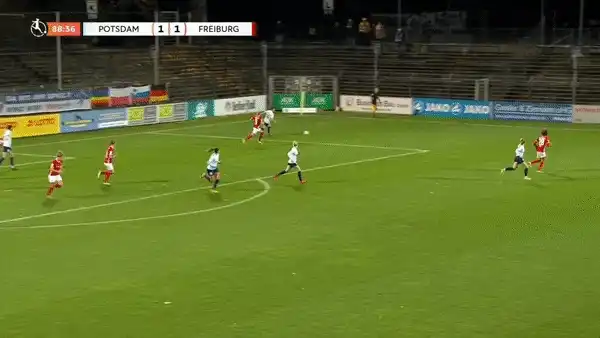 In this example we see her executing this to some degree as she drops off and plays a backward pass before making the run into the vacant space behind.
When picking up the ball near touchline she likes to turn inwards and spread the ball out to the far side upon reception, this helps shift the opposition team shape and hence create openings for runners into space. She is a good link-up forward.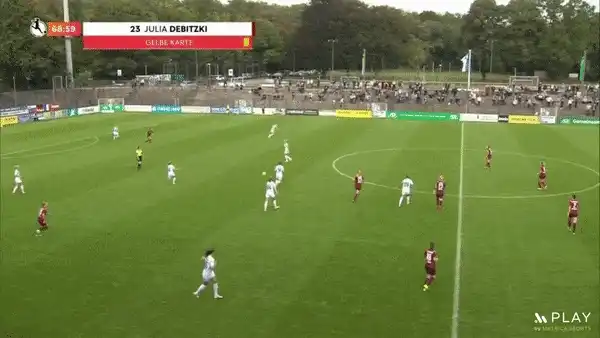 Her movements towards the outside in the channel between the CB and FB help pull defenders away and create openings for others to attack. This enables her teammate to get into the box and attack the space vacated.
Her pace is a menace to deal with, she can peel away from her marker so quickly that often draws fouls from opponents. It also helps Potsdam in their pressing, as she can close down opposition quickly and pick their pockets to cause a turnover.
Ball carrying
Cerci is a good ball carrier. Her ability to drive with the ball at her feet is great. With space in front of her she can be devastating. The heavy touches into space coupled with her long strides make it very easy for her to move the ball upfields. Her main source of entries in the box is via her ball carrying.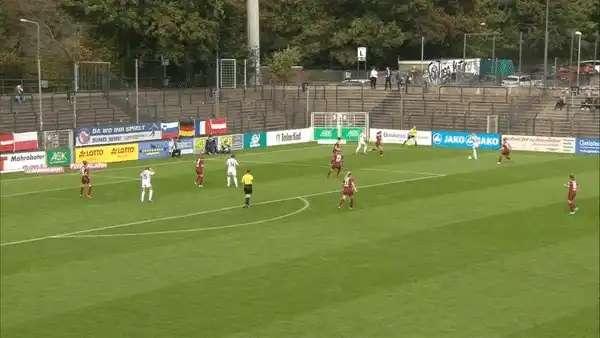 While she doesn't attempt flashy skills to beat players in 1v1 situations, Cerci is quite effective in her 1v1s, often creating space with a simple drop of the shoulder. Her pace also comes in handy here as she can create separation from her marker very swiftly. She puts her frame to good use in shielding the ball and holding off physical challenges.
Goalscoring
By January 2022, Cerci was the leading goalscorer and second highest assist provider for the team with a direct hand in 11 out of 26 of Potsdam's goals to that point in the season.
She had scored or assisted in 8 of the 11 league games played in the early 2022 season, and 7 out of her 11 direct goal contributions were game state altering i.e. they either put Potsdam on level terms or put them in the lead.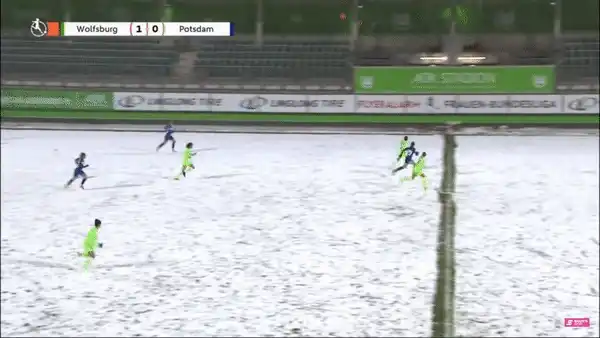 Despite her age or playing in a team that struggled in the league Cerci has continued to score. She also has a knack of scoring against high profile opponents. In the 6 games against Wolfsburg and Bayern in the prior 2 seasons, Cerci managed to get a goal in 3 of those games.
Simply put, Cerci scores goals and is a difference maker for her team.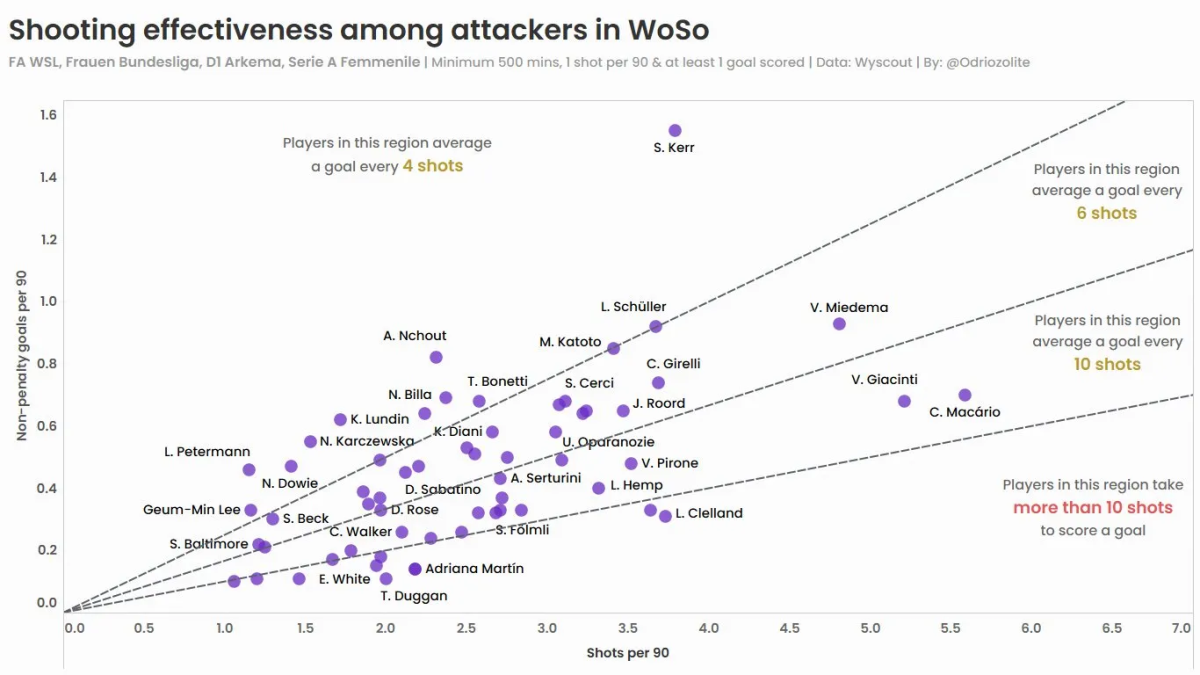 To January 2022 she was averaging a goal every 6 shots, a similar rate to the likes of Miedema and Girelli, which again emphasizes her great start of the season. One thing that stands out is how adept she is at shooting and scoring with both feet and is capable of testing the keeper from range. She strikes the ball with venom.
At 171 cm, Cerci is an aerial presence as well, winning most of her aerial duels and scoring from headers as well. In 21/22 Cerci has recorded the most headed shots of any player in the league. This makes her a threat from corners and set-pieces and a reliable target from crosses.
Work in progress
At 21, Cerci has areas of her game that can take some work. Her overall game in the final third can be better. The pass selection, weight on her final balls and the execution of it needs to be refined.
In this example we can see her peeling out wide  to receive before cutting inwards. She has options close by to pass it to but decides to go far side and gets it all wrong resulting in a turnover of possession.
Her shot selection can improve as well; she is often caught taking a lot of tame efforts from not so threatening positions, rushing into her shots at times. The positive spin to this is that it creates opportunity on the rebounds but that's not the case majority of times.
Conclusion
At 21, Cerci isn't a complete package yet and there are areas she can work on but the talent on her make it a development worth following. Her direct nature when on the ball is exciting to watch and she adds invaluable goals to the team.
The inconsistencies that come with having a young side might see them not make the UWCL spot over the likes of Hoffenheim and Frankfurt but the youthful exuberance and a transition based football with some great talents in their ranks make them an enjoyable watch and Cerci is at the heart of this.
Given the past and present evidence it's easy to be excited about what Selina Cerci can offer going forwards and her evolution is one to keep an eye on!