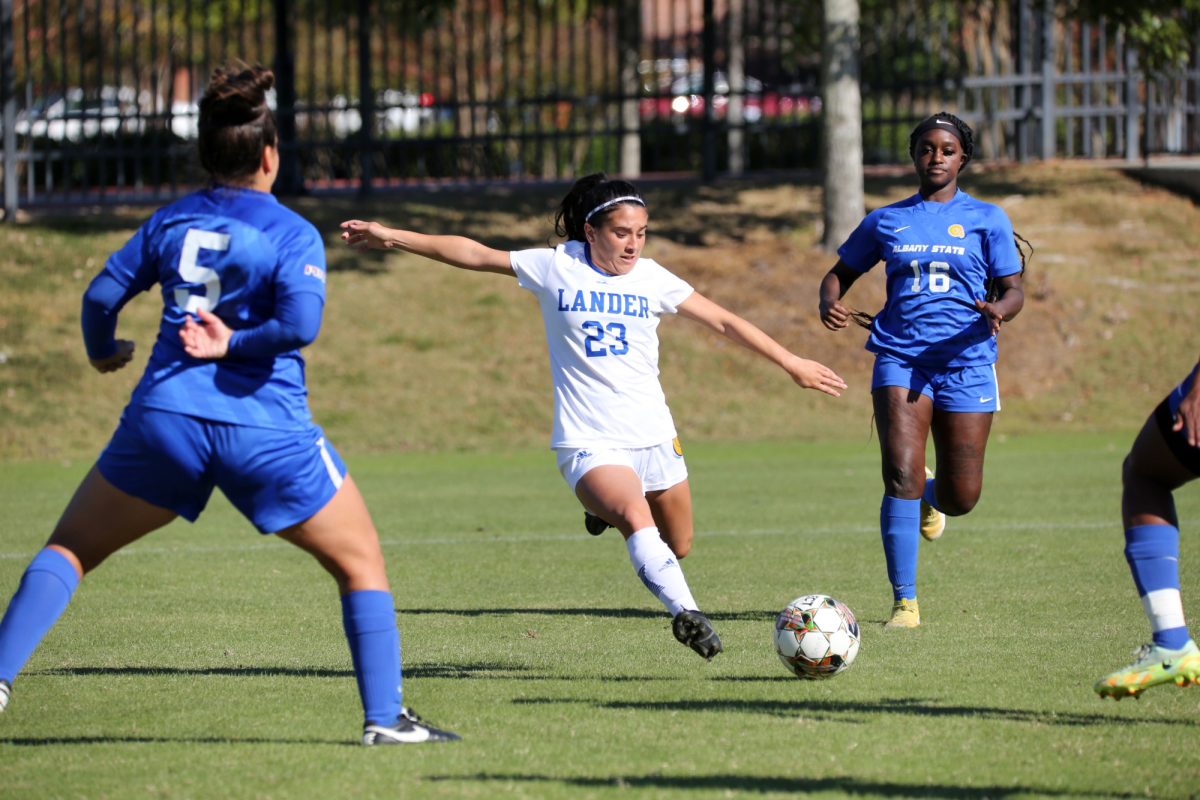 It's common for international players to make the journey to the United States to study and play soccer in college. However, it becomes a little less common when those players have already made their senior debut for their national team. Haneen Tamim is one of the most capped players for the Lebanon Women's National Football Team, with 16 appearances at only 23 years old. Tamim currently attends Lander University in Greenwood, South Carolina, where she is studying to obtain her master's degree in business administration and working part-time as a Graduate Assistant.
The Beginning
Haneen Tamim was born and raised in Beirut, Lebanon. Tamim's first involvement with the beautiful game came from her older brother Ghadi, who was two years older than her. When Ghadi's friends came over to play, he always let his sister play with them. While she was only around 8-years-old at the time, Tamim took the opportunity to learn all she could from her brother and his friends, learning new skills and tricks she could try herself. Tamim's only other time playing the game was at school PE sessions until she was 10, when started training with a local boys' team.
"They were my age, and most of them were my friends at school, which actually gave me a big push mentally and physically. I started playing with boys because I did not know that a girls team existed back then," Tamim shared.
Tamim started playing futsal and mini-football with her school. The teams she played on had a lot of success in Lebanon, in Beirut as well as beyond the capital. Tamim started playing club soccer at 13-years-old after being scouted playing with her school team. She then went on to play with the Girls Football Academy and eventually SAS, one of the most successful teams in the country.
Building A Career After Her Career
Tamim studied for three years at the American University of Beirut, with a focus in nutrition and dietetics. After she earned her degree, she worked a 10-month dietetic internship at one of the most well-known hospitals in Lebanon. Soon after, she became a licensed dietitian. Tamim shared that the decision to play abroad at a different level was always a dream for her, but continuing her studies and enhancing her CV was just as important. During this time, Tamim continued playing football while studying.
The opportunity to attend college in the United States came from an agency called USA Connect that helps to connect players in the Middle East to colleges in the United States. Tamim will play her second and final season at Lander University this fall. As the season ends, she will graduate with her master's degree in December. While she hasn't decided her path after she graduates, Tamim ensured she wouldn't be giving up football for just a normal job. "I know that I won't stop playing football and only settle for a normal job, because I want to keep on playing until I can't. The goal is to be able to do both, play and work, and that would possibly be in the Middle East," Tamim said.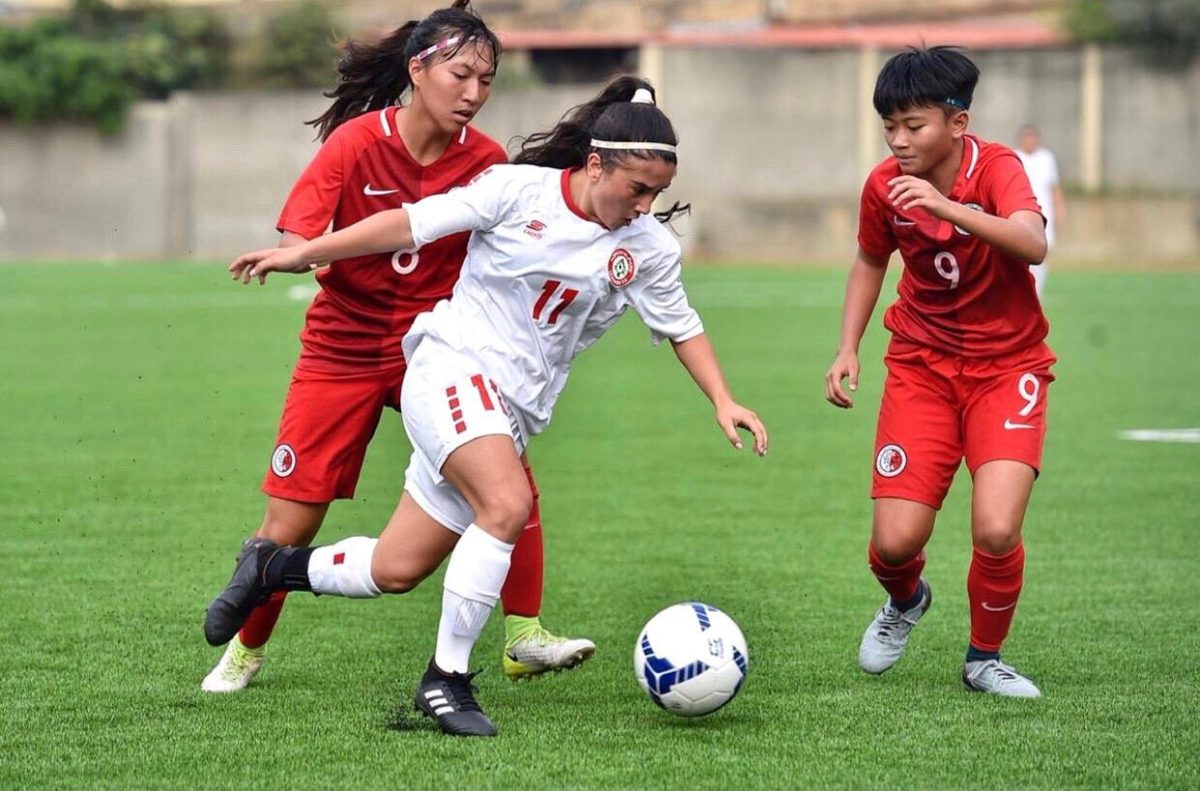 Representing Her Country
While her college career will be coming to an end this year, Tamim's time with her national team seems like it will keep going for a long time. Tamim was recently called up to represent Lebanon for two AFC Women's Olympic Qualifying Tournament matches. Representing Lebanon has meant everything to Tamim in her young career.
"I don't think there are enough words to describe the feeling of representing my country. It will always be different than playing for any club or team. Singing the Lebanese anthem gives me goosebumps every single time," Tamim commented on the feeling of representing Lebanon.
While there have been many ups and downs playing for Lebanon, Tamim enjoys every chance to participate and help the country improve. "We keep on improving, and that is all that matters."
Tamim's favorite moment of her career was with the Lebanon National Team in an AFC U20s Olympic Qualifier against Mongolia. In a tightly contested group with Australia, Hong Kong, and Mongolia, Lebanon needed to win their final game with more than a 2-0 win. She added an exclamation to secure their advancement by scoring the fourth goal in the match to make it 4-0. Tamim also played a part in the first and second goals. "Celebrating with our people in the audience was the best feeling," Tamim said.
Inspirations and Interests
Haneen Tamim has been a Barcelona fan since she was 10 years old. However as her studies and career have ramped up, she doesn't catch as many games as she used to. She has always looked up to Lionel Messi, sharing "I don't think there will ever come a football player as talented as Messi, and I think I am lucky that I watched football in his era. I look up to him a lot, especially how, at 35 years old, he was able to finally win the World Cup."
Outside of football, Tamim has many interests including watching other sports like basketball and volleyball, drawing, photography, swimming, listening to music, and reading quotes. Tamim shared one of her favorite quotes which perfectly embodies what I've learned about her in my discussions with her, "In a world where you can be anything, be kind."
Tamim also mentioned she loves watching sunsets and spending time with her family. No matter where she goes, the love she has for Lebanon will never change.